Berta teaches cello at Perron West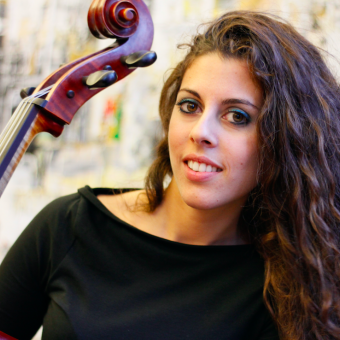 Cello Lessons in Utrecht
Looking for motivating and fun cello lessons for your child or yourself?  Played before and want to restart after a break? Interested to combine Yoga and Cello? I am Berta García Sanz from Spain. I'm an Utrecht based, passionate and patient cello teacher and in love with the sound of the cello!
Lesson Location
I address the lessons in the awesome location Perron West and my comfortable home location. If preferred, I can also give lessons at your home.
About Berta
My first steps into the music world started when I was 9, following my non-musician father's advice to choose the cello, and I have never regretted it.
I have studied in different cities and countries and got inspired by each one of my teachers, who have been the main source or motivation along my musical career. After finishing my Bachelor in 2014, I came to the Netherlands to study my Master in interpretation and afterwards I decided to stay. I am currently living in Utrecht and I work as a freelance, combining teaching with performing in several ensembles and orchestras. I am co-founder of Libero Strijkorkest, an innovative string orchestra in which all the repertoire is played by heart!
Contact
To contact Berta and find out more about her lessons, check the following link:
https://vivaldimusiclessons.nl/en/music-lessons/utrecht/cello-lessons/berta-garcia-sanz#bootstrap-fieldgroup-nav-item–contact
Beginners
You'll be encouraged to make music from the very first day. Together with some necessary music theory, always applied to the instrument, you'll learn pieces of gradual difficulty. We make use of progressive tuition methods and you'll learn a solid technique by playing easy and fun duets, scales, bowing and fingering exercises and known tunes to begin with.
Advanced
Seeking ways to take your cello playing to the next level? Repertoire includes etudes, playful and challenging concert pieces and concertos. The lessons may cover reading music, development of sound, basic music theory, vibrato, bowing and left hand technique, relaxed posture (Yoga) classical to pop repertoire and above all.. fun in music!
Cello and Yoga
I am a yoga lover and some time ago I started to integrate yoga into my musical practice. In the process of learning an instrument, it is equally as important to improve your musical skills as it is to care for your body, both physically and mentally. During my lessons you will also learn how certain yoga exercises can help you to enhance your performance, prevent anxiety and burnout, improve your mental focus and prevent common injuries.
Chamber Music
Chamber music is my passion, and I love to share it with you by making music together from the very beginning. In the lessons we will play duos of all music styles. And if you already have an ensemble, bring your music to the lesson and let's work together on some excerpts.
Orchestra Audition
I have done many orchestra auditions and I am always happy to help with the preparation, both technically and mentally.
Online Cello Classes
I also offer fun, comprehensive and well structured online courses for beginners, intermediate and advanced players. Curious? Book a trial lesson!
Feel confident!
If you play in an amateur or a youth orchestra, and you want to feel more confident about intonation, reading music, counting and timing, we can also work together on the passages you need help with. I can help you with fingerings and bowings, but also to develop the skills needed to play in a big ensemble.